Setting Sail to a Grecian Dream
Sailing towards a horizon painted with hues of blue and gold, the idea of embarking on a Greek luxury cruise ignites a sense of wanderlust in the heart of every avid traveler. Imagine this: The warm Mediterranean sun kissing your skin, the rhythmic waves of the sea creating a calming melody, and a panoramic view of the mesmerizing Grecian coastlines. It's a voyage where ancient history mingles with modern luxury, and iconic destinations await at every port.
Embracing the Mythical: Athens and its Ancient Allure
Athens, the capital of Greece, beckons travelers with its rich tapestry of history. The city's ancient ruins stand as a testament to its glorious past, with the Parthenon being the crown jewel. But Athens is not just about ruins; it's a vibrant metropolis where the past and present coexist harmoniously. The bustling streets, cafes, and the breathtaking view from the Acropolis are experiences every traveler cherishes.
The Luxury of Island-Hopping: From Santorini to Mykonos
When it comes to luxury cruises, the allure of island-hopping is undeniable. Picture this: Waking up to a new island view every morning. One day, you're exploring the iconic blue-domed churches of Santorini, and the next, you're dancing the night away in Mykonos. Both destinations offer a blend of picturesque landscapes, pristine beaches, and vibrant nightlife. And as the ship sails south, other gems of the Mediterranean await.
Ships that Redefine Luxury
The luxury ships that sail these azure waters are no less than floating palaces. Designed for discerning travelers, these ships boast state-of-the-art amenities, gourmet dining experiences, and bespoke services. Whether you're lounging on the deck with a cocktail in hand or indulging in a spa treatment, every moment onboard is curated to perfection.
New Horizons, Authentic Experiences
Travel, as Lisa Hall from Thornton-Hall Travel rightly said, enriches our lives and offers a new perspective. Greece, with its myriad of islands and rich history, offers a plethora of authentic experiences. From tasting the local cuisine to diving into the deep blue waters, every moment is a memory in the making.
Experience the best. Effortlessly.
Let Us Plan Your Luxury Retreat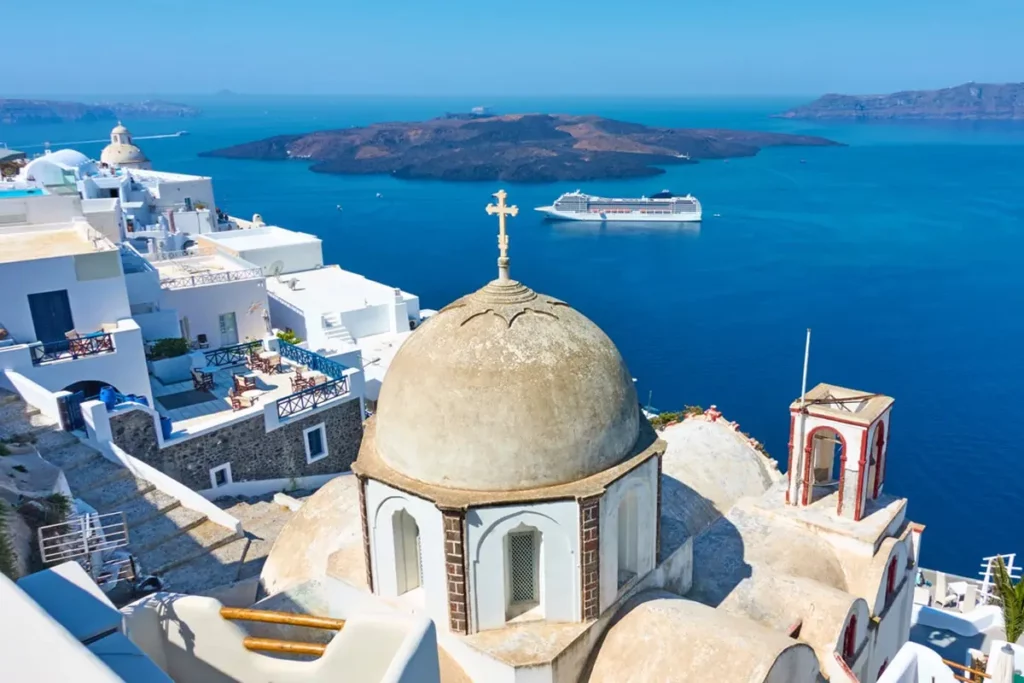 With Thornton-Hall Travel, your Greek cruise will not just be a journey; it will be an elevated experience tailored just for you. Lisa Hall's expertise, combined with the peerless elegance and services of the best cruise liners, ensures that your trip is seamless, stress-free, and absolutely unforgettable. After all, when you choose to travel with the best, every moment becomes a cherished memory.
Why Greece? The Glamour of the Aegean and Beyond
When one thinks of Greece luxury cruises, images of idyllic retreats, ancient ruins, and sapphire-blue waters come to mind. Greece, a canvas of exceptional beauty and rich history, is a haven for discerning travelers, and for good reason. Let's dive into the captivating allure that makes Greece the epitome of affluent cruising.
Embracing the Mythical: Ancient Ruins and Turquoise Seas
The ports of Greece are more than just docking points; they're gateways to stories that span millennia. Each harbor echoes tales of battles, legends, and civilizations that once thrived. And as your ship sails the Aegean, the juxtaposition of ancient ruins against the turquoise sea paints a scene straight out of a mythical tale.
Sunsets and Santorini: Greece's Picture-Perfect Moments
Santorini, a gem in the Mediterranean tapestry, captures the essence of Grecian enchantment. Its sun-kissed buildings, silhouetted against breathtaking sunsets, create postcard-perfect moments. This island is a testament to why Greece remains a top-tier cruise destination year after year.
Opa! The Lively Culture and Delectable Cuisine Awaiting Ashore
Every port, from bustling Athens to serene southern isles, promises a cultural feast. Greek cuisine, with its sumptuous olive-oil drizzled dishes, adds layers of flavor to the journey. Whether you're dancing to lively tunes in Mykonos or savoring the rich moussaka in a local taverna, every moment is a celebration.
A Melting Pot of Destinations
Greece, with its myriad of islands and ports, offers diverse experiences. The cosmopolitan vibe of places like Mykonos contrasts beautifully with the historical allure of primary ports. Every destination, every island has its unique story, waiting to be discovered.
Selecting Greece luxury cruises with Thornton-Hall Travel ensures that these stories come alive in the most luxurious way. With Lisa Hall's extensive expertise and the unsurpassed services offered by the world's top brands, travelers embark on a journey that's as bespoke as it is unforgettable.
Dressing the Part: What to Pack for Greece Luxury Cruises and Activities
Greece luxury cruises are not simply sojourns across the mesmerizing Mediterranean; done right, they are style statements — experiences that perfectly marry the casual elegance of island life with the sophistication of exclusive cruises. As the ship sails from bustling ports like Athens to idyllic destinations such as Santorini and Mykonos, what you wear can enhance your voyage experience. Let's embark on a sartorial journey to ensure you're dressed to impress.
From Bikinis to Ball Gowns: Day-to-Night Outfits
The Greek islands, with their sun-soaked beaches and azure waters, beckon travelers to embrace the Mediterranean charm. By day, stylish swimwear paired with a chic cover-up is perfect for lounging on the deck or exploring Santorini's famed cliffs. As night descends and the ship's lights illuminate the vast expanse of the sea, elegant evening attire becomes the view of choice, ensuring you shine at the ship's upscale events.
Accessorizing Like a Greek Goddess: Must-Have Jewelry and More
Greek lore is replete with tales of gods and goddesses who dazzled with their beauty and charm. Channeling that aura, think statement jewelry pieces, from necklaces inspired by the Mediterranean sea to earrings that shimmer as you dance the night away in Mykonos. Pair these with a stylish tote for day excursions and a sleek clutch for evening soirees.
Keep it Comfortable: Footwear for Deck and Dance Floor
As your cruise ship docks at various ports, exploring iconic destinations requires comfortable footwear. Think stylish sandals for strolling through Athens or fashionable wedges for those Mykonos beach parties. And for those gala nights on the ship, a pair of elegant heels or dress shoes is a must.
New Trends and Timeless Classics
Fashion, like travel, is ever-evolving. While on your trip, it's the perfect opportunity to flaunt new trends, be it the latest in beachwear or the hottest evening dress styles. Yet, the charm of timeless classics, like a crisp white shirt or a little black dress, remains unparalleled. Striking a balance ensures you're the style icon of your voyage.
With Thornton-Hall Travel guiding your experience, every moment is curated to perfection, right down to your wardrobe choices. Let the allure of the Greek islands reflect in your style, and make every view a picturesque one.
Finding Your Perfect Cruise: Which Luxury Liner is Right for You?
Our selection of Greece luxury cruises allows you to choose a floating palace to ferry you through the wonders of the Mediterranean. With such a wide range of cruise lines, each offering unique experiences, the journey becomes just as memorable as the destinations.
Royal Caribbean International: Greek Isles Wonders
With several voyages such as 'Greek Isles Sukkot' and multiple 'Greek Isles' trips, Royal Caribbean promises an experience filled with adventure, weaving through the iconic islands of Greece, complemented by exciting nights of onboard entertainment.
Viking: Iconic Sojourns in The Mediterranean
Viking introduces cruises like the 'Mediterranean and Adriatic Sojourn' and 'Mediterranean's Iconic Shores'. Tailored for those looking to immerse themselves in culture and history, Viking's offerings blend relaxation with insightful exploration.
Windstar Cruises: Aegean Treasures
With cruises like 'Treasures of The Greek Isles' and 'Cultural Gems on The Azure Aegean – Turkey and Greece', Windstar offers an intimate cruising journey. Their smaller, agile ships make it possible to visit secluded ports, ensuring a boutique experience.
SeaDream Yacht Club & Silversea Cruises: Athenian Dreams
Both these cruise lines have trips from 'Athens (Piraeus) to Athens (Piraeus)'. These cruises epitomize the heart of Greece, enabling travelers to indulge in a circular journey of discovery and magnificence.
Virgin Voyages: Greek Radiance
The 'Greek Island Glow' by Virgin Voyages is a contemporary take on sumptuous cruising, combining traditional Greek charm with a dash of modern flair.
Norwegian Cruise Line: Medley of Mediterranean Magic
From 'Greek Isles – Santorini, Mykonos, and Istanbul' to 'Mediterranean – Italy, Greece, and Egypt', Norwegian delivers a variety of experiences, ensuring travelers capture the full essence of the Mediterranean.
Seabourn: Aegean Elegance
Seabourn's 'Aegean Gems and Ephesus' cruise is the pinnacle of refinement. Travelers can expect personalized services, gourmet dining, and tailored shore excursions that unveil the hidden treasures of the Aegean.
Pairing these exquisite options with Thornton-Hall Travel's exceptional expertise in deluxe excursions ensures that finding your ideal Greece luxury cruise becomes an exhilarating journey in itself. The Mediterranean awaits, and Greece, with its myriad islands and historic ports, guarantees a voyage that seamlessly melds the old with the new.
Your Floating Palace: Decoding Lux Cruise Amenities
Embarking on a Greece luxury cruise is like stepping into a floating realm of opulence. The deep blue Ionian, the iconic islands of Santorini and Mykonos, and the historic ports of Athens form the mesmerizing backdrop. But it's inside these luxurious ships where the magic truly happens. Each cruise liner offers a world of amenities, ensuring that your journey is as splendid as the destinations you explore.
Culinary Delights: Dining on the High Seas
Travel and cuisine go hand in hand, and cruises ensure a gourmet experience. From tasting the best of Greek cuisine with a modern twist to indulging in international delicacies, every meal is a voyage of flavors. With panoramic views of the south-facing Ionian Sea from dining decks, the experience becomes even more enchanting.
The Ultimate Relaxation: Spas and Wellness Centers
After a day of exploring the island wonders of Santorini or shopping in the bustling ports of Mykonos, what better way to relax than in a state-of-the-art spa? With treatments inspired by Greek traditions and the Tyrrhenian Sea, you can rejuvenate your senses and find inner tranquility.
Entertainment and Nightlife: The Ship Comes Alive
As the sun sets in the south, these floating palaces light up with entertainment. Live shows, music performances, and dance nights ensure that every moment on the ship is lively. From contemporary acts to traditional Greek performances, there's never a dull moment on these cruises.
Adventures and Excursions: Exploring Beyond the Ship
While the amenities onboard are exceptional, the excursions these cruises offer are equally enticing. Dive deep into the turquoise waters, explore archaeological wonders in Athens, or simply soak in the beauty of the south-facing beaches. Each destination promises a new adventure.
The Personal Touch: Bespoke Services
The essence of a lavish cruise lies in the personal touch. Be it customized room amenities, personal tour guides for off-ship excursions, or dining preferences, every detail is curated keeping the traveler in mind. It's this bespoke approach that sets these cruises apart.
With Thornton-Hall Travel guiding you, Greece luxury cruises become dream odysseys. From the northern tips to the south of the Mediterranean, experience indulgence like never before.
Making Memories: Must-Visit Stops on Your Grecian Voyage
A Greece cruise is more than just a voyage; it's a symphony of experiences that linger in your heart long after you've returned home. As your ship sets sail, weaving through the majestic Mediterranean, it's the stops at the captivating getaways that turn your journey into a treasure trove of memories.
Athens: The Cradle of Civilization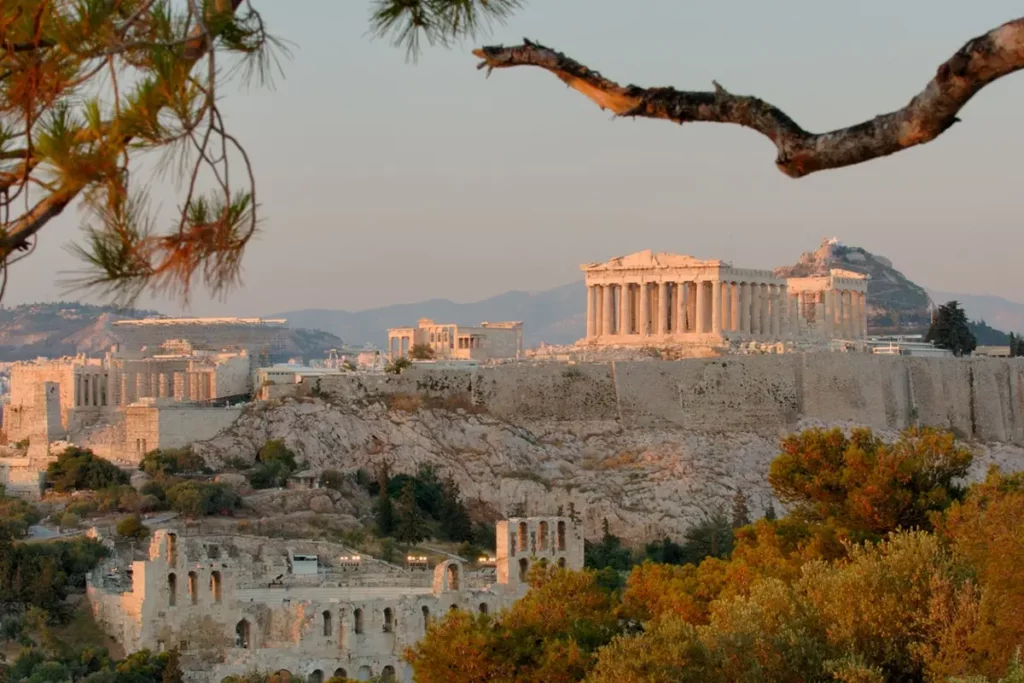 No cruise around Greece is complete without docking at the iconic ports of Athens. This ancient city, a blend of history and modernity, offers travelers a glimpse into the very soul of Greek culture. With landmarks like the Acropolis and lively marketplaces, Athens becomes an unforgettable stop.
Santorini: Postcard-Perfect Moments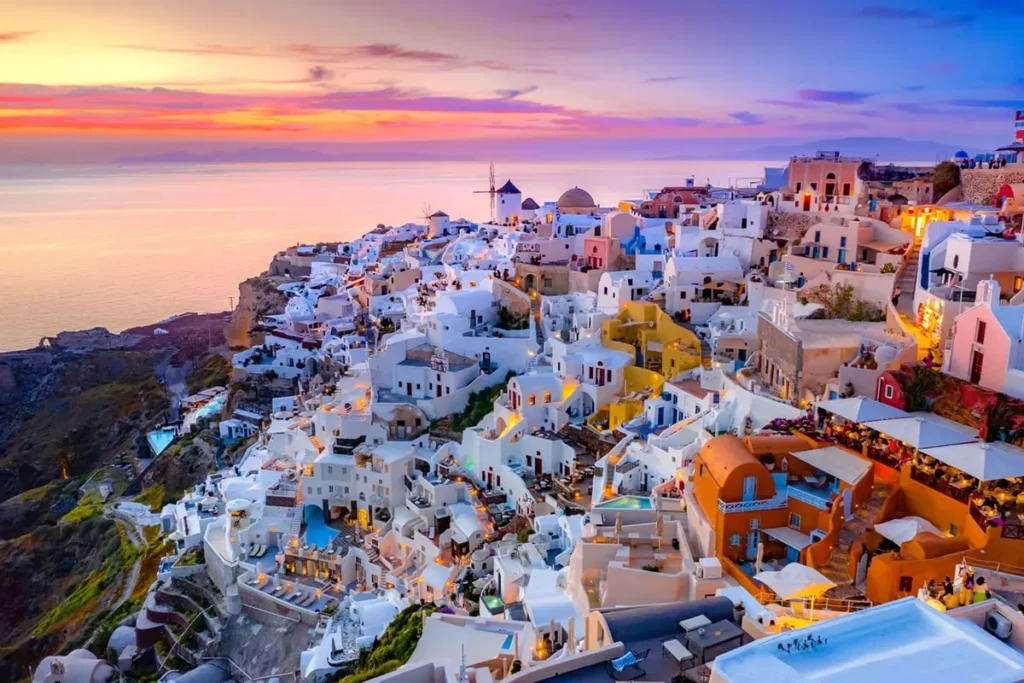 The island of Santorini, with its iconic blue-domed churches and sun-kissed cliffs, offers views that seem straight out of a dream. Whether you're watching the sun set in the south or exploring its volcanic beaches, every moment in Santorini feels like a snapshot in time.
Mykonos: The Island of Winds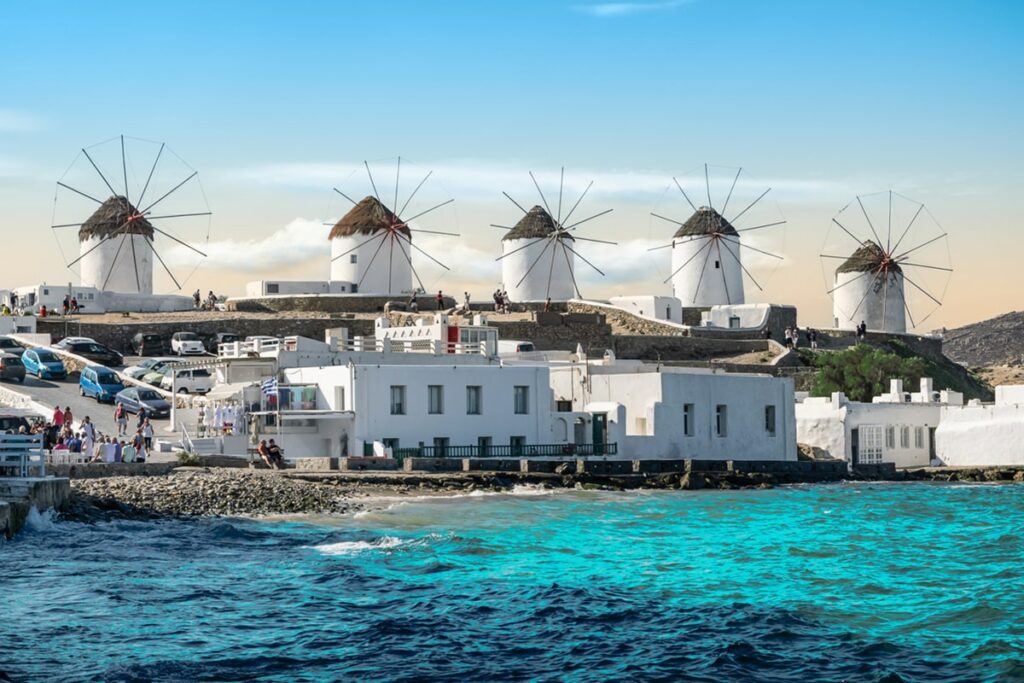 Mykonos, known for its whitewashed buildings and vibrant nightlife, is a haven for those seeking both relaxation and revelry. Stroll through its quaint streets, soak in the stunning views, or dance the night away; this island caters to all moods.
Hidden Gems of the Mediterranean
Beyond the popular spots, your cruise introduces you to lesser-known islands and ports. Dive deep into the crystal-clear waters of the south, explore archaeological sites off the beaten path, or simply relax on secluded beaches. Every new stop brings a fresh adventure.
Onboard Experiences: Making the Most of Sea Days
While the regions are enchanting, the journey aboard these ships is equally mesmerizing. With a plethora of onboard activities, gourmet dining options, and panoramic views of the Mediterranean, sea days become an integral part of your travel story.
Thornton-Hall Travel ensures that every moment of your Greece cruise is curated to perfection. From the bustling ports of the north to the serene beaches in the south, every stop becomes a cherished memory.
Stopping by the Islands: Itinerary Highlights and Must-Sees
The beauty of a Greece cruise lies not just in the onboard experience but in the mesmerizing locales it introduces you to. With each ship anchoring at a selection of iconic ports and hidden gems, the Greek isles unfold before you like chapters of a captivating novel. Here are some must-sees and highlights of the most beloved islands of the Mediterranean.
Athens: Echoes of Ancient Glories
Beyond the hustle and bustle of the modern city, Athens hides traces of its glorious past. The Acropolis stands tall, a testament to the city's ancient grandeur, offering a panoramic view that stretches out to the Mediterranean.
Santorini: A Symphony in Blue and White
Perched on a cliff with views that can steal your breath away, Santorini is every traveler's dream. The iconic blue-domed churches, the sunsets at Oia, and the charm of its narrow pathways make it a must-visit.
Mykonos: Where Tradition Meets Trend
From its iconic windmills to the labyrinthine streets of Mykonos Town, this island offers a blend of tradition and modernity. While days can be spent exploring its historic sites and beaches, nights come alive with vibrant parties and gatherings.
The Lesser-Known Pearls: Island Hopping Beyond the Famous
While the popular islands often steal the spotlight, the Mediterranean holds many more treasures. Cruises often introduce travelers to lesser-known islands, each with its unique character, history, and beauty. Whether it's the tranquility of Paros, the historical allure of Delos, or the untouched beauty of Naxos, these havens promise a novel discovery with every visit.
South-bound Serenity: The Quiet Charms of Crete and Rhodes
Venturing to the south, islands like Crete and Rhodes offer a more relaxed pace. With their rich histories, sprawling beaches, and vibrant local cultures, they are a testament to the diverse tapestry that is Greece.
With so many islands to explore and experiences awaiting at each port, every day of your Greece cruise brings with it a promise of adventure and wonder. Let Thornton-Hall Travel be your compass, guiding you to the best of what the Greek isles have to offer.
Experience Overboard: Unique Activities to Try on Your Cruise
Embarking on a Greece cruise offers not just the allure of breathtaking destinations but also an array of exciting activities on board. Each ship is a floating microcosm of adventure, ensuring that the journey between ports becomes as memorable as the stops themselves. Whether you're an adrenaline junkie, a lover of leisure, or seeking holistic rejuvenation, these cruises have it all.
Dive In: Underwater Excursions
Imagine swimming in the crystal-clear waters off the coast of Santorini, or snorkeling to discover marine life around the islands. Some ships offer scuba diving lessons and excursions, presenting a view of Greece few get to witness.
Spa Bliss: Holistic Wellness on the Waves
A hidden gem aboard many cruises is the world-class spa facilities. Offering treatments inspired by Greek traditions, these spas promise relaxation and rejuvenation. Whether it's a massage using oils infused with herbs from Athens or a therapeutic steam bath reminiscent of ancient Hellenic practices, the onboard spas ensure you disembark feeling refreshed and renewed.
Culinary Quest: Greek Cooking Classes
One of the best ways to bond with a culture is through its cuisine. Onboard cooking classes acquaint you with the rich flavors of Greece, from Athens-inspired delicacies to signature dishes of Mykonos.
Starry Nights: Stargazing at Sea
With a clear view of the heavens, the deck of a ship offers the perfect spot for stargazing. Guided sessions let you traverse the stars, identifying constellations while floating on the sea.
Dance the Night Away: Traditional Greek Dance Workshops
Immerse in Greece's vibrant culture with dance workshops. From the lively Sirtaki to island dances, each step echoes the heartbeat of this ancient land.
Adventure on Land: Customized Island Excursions
Every port, from bustling Santorini to historic Athens, promises unique adventures. Ships curate special excursions for guests, ensuring a mix of thrill and local experience. Discover something new at every dock.
Exploring the South: The Road Less Travelled
Beyond the famed spots, venturing south on cruises can introduce travelers to hidden gems. Whether it's kayaking, touring local villages, or sipping wine, the southern isles promise serenity.
With countless activities and experiences to choose from, your Greece cruise promises a journey of constant wonder and excitement. Let Thornton-Hall Travel be your compass, guiding you through every unforgettable moment.
Mingling on the Deck: Socializing and Making Friends
A Greece cruise isn't solely about the stunning views, ancient ruins, or the seductive islands like Santorini and Mykonos. It's also about the people you meet, the friendships you forge, and the memories you create together. Onboard, there's a myriad of opportunities to socialize, ensuring you disembark with more than just photographs and souvenirs.
Theme Nights and Elegant Soirees: Dressing Up and Dancing Away
Every cruise prides itself on its entertainment, and theme nights are a highlight. Whether it's a Greek night with traditional music and dance or a glamorous masquerade ball, these events offer the perfect backdrop for socializing. Don your best outfits, let your hair down, and dance the night away under the Athenian sky.
Cocktail Connoisseur: Tasting Events with World-Class Mixologists
For those who appreciate the finer things in life, cocktail tasting events are a must-attend. Learn about the intricate art of mixology, sample pioneering concoctions, and engage in delightful conversations with fellow guests. As the ship sails from one port to another, indulge in beverages that capture the essence of the Mediterranean.
Sharing Stories: Group Excursions and Guided Tours
While individual exploration has its charm, group excursions offer a unique experience. As you venture into the narrow alleys of Mykonos or explore the ancient ruins south of Athens, share stories, exchange travel tips, and bond over shared adventures. These moments of collective awe and discovery often lead to lasting friendships.
Whether you're a social butterfly or someone who usually shies away from large gatherings, the ambiance onboard encourages interaction. Between the shimmering waters and the beckoning islands, every traveler finds common ground, making it easy to mingle and connect. With Thornton-Hall Travel orchestrating your voyage, rest assured that every encounter will be a special one.
Safety and Serenity: Ensuring a Smooth Sailing Experience
Embarking on cruises is not just about exploring dazzling locales or enjoying onboard amenities. Ensuring the safety and well-being of travelers is paramount. With ships designed to prioritize guest security and a crew trained to handle any situation, travelers can set sail with peace of mind.
Setting Standards: Health and Hygiene on Board
In today's ever-evolving landscape, health and hygiene have taken center stage. Cruises today adhere to strict sanitation protocols. From rigorous cleaning routines to state-of-the-art medical facilities, every ship ensures that travelers can enjoy their voyage without health-related concerns.
Eco-Friendly Elegance: Sustainable Cruising Options
Preserving the pristine beauty of the islands and the environment is crucial. Modern ships are integrating cutting-edge eco-friendly technologies and sustainable practices. From waste management systems to using cleaner fuels, each cruise is taking strides towards a greener future.
Your Crew, Your Champions: Relying on Trained Professionals
The crew onboard is not just about hospitality. They're trained for emergencies, adept at ensuring passenger safety, and always ready to assist. Whether it's navigating through tricky ports or managing onboard events, their expertise provides an added layer of security.
Navigating Athens and Beyond: On-Shore Safety Measures
While the ship offers a sanctuary of safety, on-shore excursions are where travelers want assurance too. Pre-vetted tour operators, knowledgeable local guides, and organized transportation ensure that every off-ship adventure, be it in Athens or another picturesque island, is both safe and enjoyable.
With each detail meticulously planned, travelers can focus on the mesmerizing views, unique experiences, and the joy of travel, all while being cocooned in safety. Let Thornton-Hall Travel guide your journey, ensuring that every moment on board is as serene as it is exhilarating.
Money Matters: Budgeting for a Voyage
Choosing to embark on Greece luxury cruises ensures a journey encompassing the finest facets of travel, whether it's the mesmerizing backdrop of the Aegean or the curated experiences onboard. As you set out on this distinctive voyage, comprehending various budgetary considerations can make your journey even more seamless.
All-Inclusive Allure: What's Covered in Your Cruise Package?
One of the highlights of renowned cruises is the all-inclusive packages they offer. Typically, these encompass plush accommodations, gourmet dining experiences, onboard entertainment, and select excursions. Familiarizing yourself with the inclusions allows for meticulous planning for any additional experiences you wish to explore, whether onboard or amidst the stunning islands.
Splurge-worthy Shore Excursions: Tours Worth the Extra
Certain exclusive excursions, especially in iconic locales like Athens, may beckon your curiosity. Whether it's a private tour of historical wonders, a specially-curated dining rendezvous, or a bespoke adventure, earmarking a segment of your budget for these standout experiences is beneficial.
Tipping Tactics: Showing Appreciation Thoughtfully
Recognizing stellar service is integral on cruises. While many ships have gratuities integrated into the package, there may be moments where you'd want to extend additional appreciation. Being versed with general tipping norms can help strike the right balance.
Exclusive Onboard Experiences: Prioritizing and Allocating
The array of unique experiences aboard Greece luxury cruises are boundless. From specialty restaurants to workshops led by experts, determining your key interests and allocating a segment of your budget to these will elevate your cruising experience.
Navigating Currency Essentials: Local and Onboard
Onboard expenses are generally charged to your suite, settled as the voyage concludes. However, possessing some local currency for visits to various ports can prove invaluable, especially for spontaneous on-shore explorations or shopping.
Crafting a budget for a voyage is more than numbers; it's about ensuring every moment is savored to its fullest. Through careful planning and the expert guidance of Thornton-Hall Travel, every dimension of your journey, from the most extravagant to the nuanced details, transforms into a cherished memory.
Love on the Aegean: Planning a Honeymoon or Anniversary Cruise
Greece luxury cruises will stand forever as icons of romance. With the backdrop of azure seas, whitewashed structures, and sunlit horizons, it promises memories that last a lifetime. As you chart a course through the Aegean, here's how to ensure that your honeymoon or anniversary becomes a voyage for the ages.
Suite Serenades: Special Packages for Couples
The allure of cruises often lies in the special packages curated just for couples. These often encompass not just opulent suites with panoramic views but also exclusive romantic dinners, private deck areas, and bespoke experiences tailored to celebrate love. Researching and choosing a package that resonates with your vision can make all the difference.
Private Paradise: Secluded Beaches and Intimate Dinners
While bustling ports like Athens offer their charm, sometimes it's the secluded beaches or hidden coves of lesser-known islands that captivate. Opting for cruises that anchor at these intimate spots ensures a serene ambiance. Moreover, many ships offer private dinners under the stars, turning an ordinary evening into an unforgettable affair.
Making Memories: Capturing Every Moment on Camera
The shimmering seas, the breathtaking views from the deck, the radiant smiles — every moment is worth capturing. While many ships offer professional photography services, also consider taking a photography workshop onboard. It not only helps in snapping the best memories but also adds a unique activity to your voyage.
Exploring Athens Together: Historical Walks and Romantic Strolls
The charm of Athens isn't just in its historical grandeur but also in its romantic lanes, cozy cafes, and picturesque spots. Dedicate a day to explore the city together — be it marveling at the Acropolis or savoring a coffee with a view of the bustling squares.
Love, they say, is best celebrated in the lap of nature and grandeur. Greece luxury cruises effortlessly blends both, promising a honeymoon or anniversary that's etched in golden memories. Let Thornton-Hall Travel be your compass in this journey, guiding you to moments that stand still in time.
Beyond the Boat: Extending Your Stay in Greece
Following any of our Greece luxury cruises is bound to leave any world traveler yearning for more. As the silhouette of your ship fades into the horizon, the timeless allure of the mainland becomes irresistible. Here's how you can deepen your connection with this ancient land once you step ashore.
Athens Adventures: A Timeless Affair
No journey to Greece is complete without immersing oneself in the wonders of Athens. From the shadows of the Acropolis to the hustle and bustle of its modern streets, the city is a vibrant tapestry of history and today. As you meander, every view unfolds a story, painting a vivid picture of its glorious past and dynamic present.
Hidden Treasures: Discovering the Undiscovered
Beyond the famed attractions lie gems that often remain hidden from the typical tourist's eye. Embarking on offbeat trails, visiting lesser-known archaeological sites, or simply engaging with the locals can lead to some of the best travel experiences one can cherish.
A Gastronomic Odyssey: Delighting the Palate
The rich and diverse culinary landscape invites food enthusiasts on a delightful journey. Take a culinary tour in Athens, indulge in age-old recipes at local eateries, or perhaps, learn to whip up traditional dishes, ensuring a piece of this gastronomic paradise travels home with you.
Diverse Ports, Unique Tales
The ports that dot this region aren't just gateways to new islands; they're doors to varied experiences. From historical explorations to market visits, every port promises a unique tale. And with each additional stop, there's an adventure awaiting, a memory ready to be crafted.
While Greece luxury cruises offer a stunning introduction to this enchanting land, truly embracing its essence requires a deeper dive, an extended stay. And with the expertise of Thornton-Hall Travel by your side, every moment, every experience becomes a chapter in your unforgettable Grecian odyssey.
Anchoring Your Grecian Dreams and Setting New Horizons
As the sun sets over the Aegean, casting a golden hue on the waters, one can't help but reflect on the myriad experiences that a journey through this region offers. Whether you embarked on Greece luxury cruises or chose to explore the land's hidden treasures, every moment spent here becomes a cherished memory.
The allure of Athens, with its rich tapestry of history and modernity, the thrill of discovering lesser-known spots, the gastronomic delights that teased the palate, and the countless new friendships made — every aspect of this journey leaves an indelible mark on the heart.
But as with all great travels, the conclusion isn't an end but a fresh beginning. With every view savored, every tale heard, the desire to explore further, to experience more, only grows stronger. And as you set unique travel horizons, remember that the magic of Greece, its islands, and its seas will always beckon, promising singular stories and adventures unlike anything else.
So, as you anchor your Grecian dreams, know that the land of gods, heroes, and legends awaits your return. And when you decide to embark on another voyage, Thornton-Hall Travel will be right there, ready to craft another unforgettable chapter of your travel story.
The Thornton-Hall Travel Advantage: Crafting Unforgettable Journeys
At the heart of every memorable voyage is an exceptional travel curator. And Thornton-Hall Travel is the epitome of this excellence. But what truly sets them apart is the illustrious company they keep — their elite affiliations. These partnerships ensure that as a Thornton-Hall client, your experiences are not just extraordinary but also exclusive.
Sir Rocco's Knights Rocco Forte Hotels
Experience a seamless blend of modern elegance and rich history with Sir Rocco's Knights. Each hotel, located in culturally rich destinations, tells its own unique story.
One&Only
Synonymous with supreme comfort, the One&Only resorts offer an oasis of comfort in some of the world's most exotic locations.
Abercrombie & Kent
Venture into the world of bespoke, elegant travel with Abercrombie & Kent, known for their meticulously crafted journeys and insider-access experiences.
Rosewood
Dive into a world where sophistication meets local cultural exploration. Rosewood promises a distinct and personalized experience in each of its properties.
Silversea
Embrace the epitome of sumptuous sea travel with Silversea. Their intimate cruise experiences focus on personal attention, world-class gastronomy, and immersive shore excursions.
Fairmont Hotels & Resorts
From historic icons to tropical getaways, Fairmont delivers moments that connect guests to the very essence of their destinations.
Belmond Bellini Club
A collection of timeless lavish hotels and travel adventures, Belmond invites guests to discover the world's thrillingly authentic experiences.
Ritz-Carlton Stars
Experience the pinnacle of posh with the Ritz-Carlton. With its legendary service, guests are ensured a stay that's as memorable as it is refined.
Tauck – World Discovery
For those seeking enriching travels, Tauck provides meticulously crafted journeys that dive deep into the culture and history of a destination.
Uniworld – Boutique River Cruise Collection
Unveil the secrets of the world's most majestic rivers with Uniworld. Their boutique cruises promise intimate settings and unsurpassed splendor.
Regent Seven Seas Cruises
Step into a realm of incomparable comfort with Regent Seven Seas Cruises. Every journey promises all-suite accommodations, gourmet dining, and personalized excursions that transform every voyage into an experience.
Waldorf Astoria Hotels & Resorts
A beacon of sophistication, Waldorf Astoria Hotels & Resorts offer unforgettable experiences in iconic destinations around the world, defined by timeless elegance and innovation.
Mandarin Oriental Fan Club
With a reputation for style and service, Mandarin Oriental promises an amalgamation of grandeur, comfort, and a unique sense of place in every property.
The Peninsula Penclub
At the forefront of luxury hospitality, The Peninsula Hotels offer a blend of the old and new, combining tradition with innovation to cater to discerning travelers.
Auberge Resorts Collection
Discover boutique luxury at its finest with Auberge Resorts Collection. Each resort offers a unique expression of personal luxury, yet all share a crafted approach to luxury and bringing some of the most desirable destinations to life.
Relais & Chateaux
Experience genuine hospitality with Relais & Chateaux's collection of unique properties. Their commitment to preserving local heritage and environment ensures an authentic and memorable stay.
Aman Resorts
Enter the world of Aman Resorts, where days pass in a serene cadence and every moment is a celebration of pure living.
Couture By Langham
Experience hospitality that's personal and sincere, set in captivating destinations around the world, with Langham's promise of enchanting hotel experiences.
Diamond Club Dorchester Collection
With iconic hotels in iconic places, Diamon Club offers tailor-made experiences that resonate with luxury and class.
Four Seasons
From bustling cities to pristine landscapes, Four Seasons seamlessly integrates local culture, stunning surroundings, and its renowned personalized service.
Oetker Collection Masterpiece Hotels
Experience masterpieces in hospitality with Oetker Collection, where each property stands as a testament to timeless elegance, top-notch service, and unique character.
Preferred Hotels & Resorts: Platinum Elegance
As a Platinum Partner with Preferred Hotels & Resorts, Thornton-Hall Travel clients are granted exclusive access to a realm of unequalled hospitality. With a curated collection of the world's most celebrated independent luxury hotels, Preferred ensures that each stay is distinguished by its genuine feel, authenticity, and the highest standards of luxury. No matter the destination, expect a blend of exceptional service, remarkable locations, and memorable experiences that encapsulate the essence of the locale.
Viceroy Hotels And Resorts
Witness a modern take on luxury that's both uncompromising and all-encompassing with Viceroy's promise of a truly immersive experience.
Small Luxury Hotels Of The World
A collection of independently-minded properties, SLH ensures an upscale and unique local experience.
Shangri-La Group
Discover a world where legendary service, luxury, and style come together, crafting a realm of unique experiences and cherished moments.
Virtuoso
Step into a universe of bespoke experiences and peerless luxury, ensuring every journey you embark on is nothing short of extraordinary.
Grand Velas
Redefining luxury in all-inclusive accommodations, Grand Velas promises top-tier service, world-class dining, and breathtaking surroundings.
In partnering with these prestigious names, Thornton-Hall Travel ensures that your every journey is touched with moments of magic, wonder, and exclusivity. As you set forth on your next travel chapter, let Thornton-Hall be your guiding star, crafting experiences that will forever resonate in your heart.